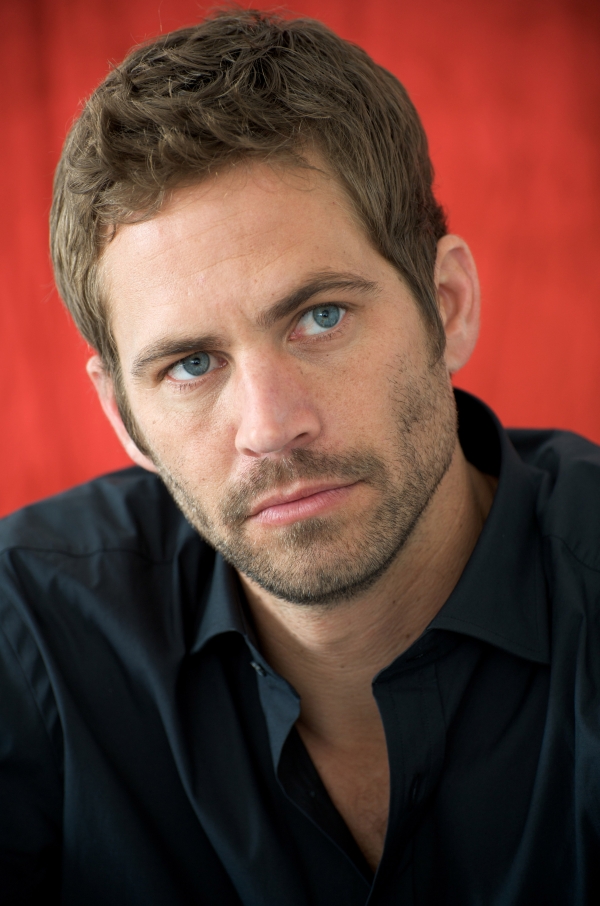 William Walker IV (Glendale, 12 de septiembre de 1973 - Santa Clarita, 30 de noviembre de 2013) fue un actor estadounidense, mejor conocido por interpretar a Brian O'Conner en las películas The Fast and the Furious (2001), Fast 2 Furious (2003), Fast & Furious (2009) Fast Five (2011), Fast & Furious 6, además de su actuación en la película infantil Eight Below.
Paul nació en Glendale, California pero se crio en el San Fernando Valley en Los Ángeles.2 Es hijo de Paul Walker III, un contratista de alcantarillado y de Cheryl Crabtree, una ex modelo. Paul es el segundo de cinco hermanos (dos hombres, Caleb y Cody, y dos mujeres, Ashlie y Amie).
Su abuelo Paul William Walker, Jr. alias "Irish" Billy Walker fue un
boxeador profesional. Walker se graduó del Village Christian High School en 1991. Antes de convertirse en act
or quería ser biólogo marino. Paul disfruta surfeando y practicando artes marciales como el Jiu-Jitsu brasileño y Muay Thai kickboxing.
En el 2001 Paul fue nombrado por la revista People como una de las personas más sexys.7 En marzo del 2010 Paul visitó Chile, en especial a la ciudad de Constitución, para ayudar a las personas damnificadas por el terremoto de magnitud 8,8, el cual golpeó al país el 27 de febrero del mismo año. Paul acudió junto a paramédicos y ayudas
Paul comenzó su carrera en la pequeña pantalla al protagonizar un anuncio de televisión para Pampers.8 Entre 1985 y 1994 apareció como invitado en series como Highway to Heaven, Who's the Boss?, I'm Telling!, The Boys Are Back, The Young and the Restless, Touched By an Angel, entre otras. En 1986 comenzó su carrera cinematográfica cuando apareció en la película de horror y comedia Monster in the Closet. Ese mismo año se unió a la serie Throb donde interpretó al hijo de 12 años de Sandy, Jeremy Beatty.
En 1998 interpretó a Phil Deedle en el largometraje Meet the Deedles, ese mismo año también participó en la película ambientada en los años 50 Pleasantville, protagonizada por Tobey Maguire y Reese Witherspoon. Un año después participó en películas como Varsity Blues, She's All That y Brokedown Palace. En el 2000 interpretó a Caleb Mandrake en la película The Skulls.
En el 2001 alcanzó la fama cuando interpretó por primera vez al oficial Brian O'Conner en la película de acción The Fast and the Furious, luego de que Brian entrará encubierto a las carreras para lograr atrapar a Dominic Toretto (Vin Diesel), de quien termina haciéndose amigo. Ese mismo año interpretó a Lewis Thomas en la película Joy Ride, en donde Lewis junto a su hermano y novia intentan huir de un camionero que quiere matarlos. En el 2003 interpretó otra vez a Brian O'Conner en la segunda película Fast 2 Furious, en ella Brian junto con Roman Pearce (Tyrese Gibson) van encubierto como corredores de calle para tratar de poner en prisión a Cárter Verone (Cole Hauser), un narcotraficante. Ese mismo año participó en la película Timeline, donde interpretó a Chris Johnston.
En el 2005 apareció en la película Into the Blue junto a Jessica Alba, donde interpreta a Jared Cole, un buceador nato que después de encontrar un avión hundido cargado de cocaína, debe luchar por salvarse de unos peligrosos traficantes y tiburones. Un año después, en el 2006, obtuvo un papel secundario en la película de Clint Eastwood, Flags of Our Fathers, donde interpretó al Sargento Henry "Hank" Hansen. Ese mismo año apareció en películas como Running Scared y en Eight Below de Walt Disney Pictures, donde interpretó a Jerry Shepard, quien arriesga su vida para rescatar a unos perros que se han quedado solos en la Antártica antes de que llegue la tormenta.
En el 2008 protagonizó la película independiente The Lazarus Project, la cual fue estrenada en DVD el 21 de octubre del mismo año. En el 2009 interpretó de nuevo el papel de Brian O'Conner en Fast & Furious, esta vez Brian ayuda a Dominic a descubrir al asesino de Letty. La película es la cuarta entrega de la saga y se estrenó en abril del mismo año. En el 2010 apareció junto a los actores Matt Dillon y Hayden Christensen en la película de crimen y drama Takers (también conocida como "Bone Deep").10 Ese mismo año protagonizó la serie del National Geographic Channel, Expedition Great White, la cual se estrenó en junio del mismo año; en donde pasó 11 días como parte de la tripulación de un bote encargado de capturar y marcar a siete tiburones blancos en la costa de México.
En el 2011 volvió a interpretar el papel de Brian O'Conner, esta vez en la película Fast Five, la quinta entrega de la saga de The Fast and the Furious, en la que viejos conocidos volvieron a la pantalla.
El 30 de noviembre de 2013 Paul Walker falleció al chocar su automóvil en el que iba como copiloto contra un árbol cuando se encontraba de camino, junto con un amigo que conducía, a un evento de caridad realizado por Reach Out Worldwide
"Lamentamos confirmar que Paul murió hoy en un trágico accidente de coche durante un evento benéfico para su organización Reach Out Worldwide", indicaron sus publicistas desde la página oficial del intérprete en la red social Facebook.
Filmografía
| Año | Título | Personaje | Notas |
| --- | --- | --- | --- |
| 2014 | Hitman | Agente 47 | Papel Principal |
| 2014 | Fast & Furious 7 | Brian O'Conner | Junto a Vin Diesel, Dwayne Johnson |
| 2013 | Random Acts Of Violence | 2º Rol Principal | Junto a Eminem |
| 2013 | The Fast and the Furious 6 | Brian O'Conner | Junto a Vin Diesel, Michelle Rodríguez, Jordana Brewster y Dwayne Johnson |
| 2011 | Fast Five | Brian O'Conner | Junto a Vin Diesel, Elsa Pataky, Dwayne Johnson, Tyrese Gibson & Jordana Brewster |
| 2010 | The Diplomat | - | - |
| 2010 | Takers | John Rahway | Junto a Hayden Christensen , Matt Dillon y Idris Elba |
| 2009 | Fast & Furious | Brian O'Conner | Junto a Michelle Rodríguez, Vin Diesel y Jordana Brewster |
| 2008 | The Lazarus Project | Ben Garvey | Junto a Tony Curran y Piper Perabo |
| 2007 | Stories USA | Mikey | Segmento "Life Makes Sense If You're Famous" |
| 2007 | The Death and Life of Bobby Z | Tim Kearney | Junto a Laurence Fishburne y Olivia Wilde |
| 2006 | Flags of Our Fathers | Sgt. Henry "Hank" Hansen | Junto a Ryan Phillippe y Jesse Bradford |
| 2006 | Eight Below | Jerry Shepard | Junto a Moon Bloodgood y Bruce Greenwood |
| 2006 | Running Scared | Joey Gazelle | Junto a Vera Farmiga, Cameron Bright y Chazz Palminteri |
| 2005 | Into the Blue | Jared | Junto a Jessica Alba , Scott Caan y Josh Brolin |
| 2004 | Noel | Mikey Riley | Junto a Penélope Cruz |
| 2003 | Timeline | Chris Johnston | Junto a Frances O'Connor , Billy Connolly y Gerard Butler |
| 2003 | 2 Fast 2 Furious | Brian O'Conner | Junto a Eva Mendes, Tyrese Gibson y Cole Hauser |
| 2003 | Turbo-Charged Prelude | Brian O'Conner | Cortometraje introducción de Fast & Furious |
| 2002 | Life Makes Sense If You're Famous | Mikey | Junto a Scott Caan y Desmond Harrington |
| 2001 | Joy Ride | Lewis Thomas | Junto a Steve Zahn y Leelee Sobieski |
| 2001 | The Fast and the Furious | Brian O'Conner | Junto a Michelle Rodríguez, Vin Diesel y Jordana Brewster |
| 2000 | The Skulls | Caleb Mandrake | Junto a Joshua Jackson y Craig T. Nelson |
| 1999 | Brokedown Palace | Jason | - |
| 1999 | She's All That | Dean Sampson | Junto a Freddie Prinze, Jr., Rachael Leigh Cook y Usher |
| 1999 | Varsity Blues | Lance Harbor | Junto a Ali Larter, James Van Der Beek, Amy Smart y Scott Caan |
| 1998 | Pleasantville | Skip Martin | Junto a Reese Witherspoon , Tobey Maguire , William H. Macy , J.T. Walsh y Jeff Daniels |
| 1998 | Meet the Deedles | Phil Deedle | Junto a Dennis Hopper y Steve Van Wormer |
| 1994 | Tammy and the T-Rex | Michael | Junto a Denise Richards |
| 1987 | Programmed to Kill | Jason | - |
| 1986 | Monster in the Closet | Profesor Bennett | - |
| Año | Título | Personaje | Notas |
| --- | --- | --- | --- |
| 1996 | Touched by an Angel | Jonathan | Episodio "Statute of Limitations" |
| 1994 | The Boys Are Back | Jesse Hansen | Episodio "Pilot" |
| 1994 | CBS Schoolbreak Special | Dill | Episodio "Love in the Dark Ages" |
| 1993 | The Young and the Restless | Brandon Collins | tv serie |
| 1991 | What a Dummy | Rick | Episodio "Bringing Up Baby" |
| 1991 | Who's the Boss? | Michael Haynes | Episodio "You Can Go Home Again" |
| 1990 | Charles in Charge | Russell Davis | Episodio "Dead Puck Society" |
| 1988 | I'm Telling! | Concursante | Episodio · 1.16 |
| 1986 - 1987 | Throb | Jeremy Beatty | 23 episodios |
| 1985 - 1986 | Highway to Heaven | Eric Travers y Todd Bryant | 3 episodios |
| Año | Título | Notas |
| --- | --- | --- |
| 2009 | Shelter | Productor ejecutivo |
| 2007 | The Death and Life of Bobby Z | Productor |
Premios y nominaciones