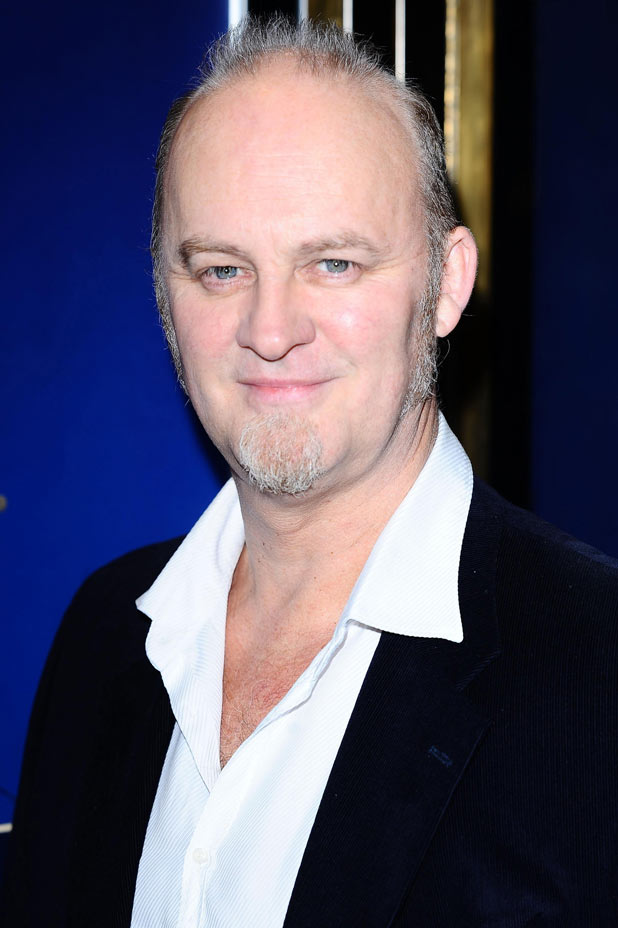 Tim McInnerny (18 de septiembre de 1956) es un actor inglés, conocido por sus papeles en las series de Blackadder donde dio vida a Percy, Duque de Northumberland (en la primera temporada), Lord Percy (en la segunda temporada) y al Captain Darling (en la cuarta), decidió no representar su papel de Percy en la tercera serie, ya que consideraba que sería catalogado, aunque sí apareció posteriormente como actor invitado.
Es uno de los actores junto a Rowan Atkinson y Tony Robinson en aparecer en las cuatro series de Blackadder, aunque no apareció en el especial de Navidad.
McInnerny nació en Cheadle Hulme, Stockport, es hijo de Mary Joan Gibbings y William Ronald McInnerny, tiene cinco hermanos, su hermana es la actriz Lizzy McInnerny.
Fue criado en Cheadle Hulme, Stockport en Cheshire, Tim estudió en las escuelas Marling, Stroud, en el colegio Wadham y en Oxford.
En 1983 participó en la película Dead on Time, junto a Rowan Atkinson, y en 1985 actuó en Edge of Darkness, donde interpretó al anarquista Terry Shields. En 1988 participó en A very British Coup, donde interpretó a Fiennes, y al siguiente año, en 1989, participó en la película Erik the Viking, donde interpretó a Sven, y en la miniserie Shadow of the Noose, donde dio vida al Lt. de Ponthieu.
Entre 1997 y 2001 trabajó en diversas puestas cinematográficas y series de televisión entre ellas se encuentran: FairyTale: A True Story donde trabajó junto a Peter O'Toole, también apareció en The Vice, donde dio vida a Max Wilson, en Rogue Trader junto a Ewan McGregor y Anna Friel, en la serie de televisión Watership Down, en Longitude, donde dio vida a Christopher Irwin, en The Miracle Maker, junto a Ralph Fiennes, James Frain y Ian Holm, donde todos prestaron su voz para interpretar a los personajes. También actuó en The Canterbury Tales y en The Emperor's New Clothes donde trabajó al lado de Ian Holm y Iben Hjejle.
Entre 2001 y 2006 participó en Hot Dog, Trial $ Retributions VI, Gunpowder, Treason & Plot, en Marple: The Murder at the Vicarage donde dio vida al Rev. Leonard Clement, también participó en la película de terror Severence y en The Line of Beauty.
En el 2007 participó en One Day interpretando a Owen, también apareció en Behind the Director's Son's Cut, como Sven the Berserk y en Hell Bent for Leather como Mr. Hunter.
En mayo del 2008 anunció que tendría una parte en el largometraje Fly Me, actualmente en producción y que es co-protagonizada por Toby Stephens.
| Año | Título | Personaje | Notas |
| --- | --- | --- | --- |
| 2014 | Outlander | Fraile Bain | episodio "The Way Out" |
| 2014 | Utopia | Airey Neave | episodio # 2.1 |
| 2011 - 2012 | New Tricks | Stephen Fisher | 3 episodios |
| 2012 | The Bleak Old Shop of Stuff | Harmswell Grimstone | 3 episodios |
| 2011 | Law & Order: UK | Simon Bennet | episodio "Haunted" |
| 2011 | The Body Farm | Richard Warner | episodio # 1.5 |
| 2011 | Twenty Twelve | Tony Ward | episodio # 1.6 |
| 2010 | Midsomer Murders | Hugh Dalgleish | episodio "The Sword of Guillaume" |
| 2009 | Inspector George Gently | Geoffrey Pershore | episodio "Gently Through the Mill" |
| 2009 | Hustle | Juez Anthony Kent | episodio "Lest Ye Be Judged" |
| 2008 | The Devil's Whore | Joliffe | miniserie de 3 episodios |
| 2008 | Doctor Who | Mr. Halpen | episodio "Planet of the Ood" |
| 2008 | Kika & Bob | La Voz | miniserie |
| 2004 - 2006 | Spooks | Colin Wishart | 4 episodios |
| 2006 | The Line of Beauty | Paul Bergson | 3 episodios |
| 2001 | Don't Eat the Neighbours | Terrapin | tv serie |
| 2000 | Dominion | Roger Avery | tv serie - junto a Hugh Laurie |
| 1997 - 1998 | Tracey Takes On | Timothy Timmy Bugge | 2 episodios |
| 1993 | The Young Indiana Jones Chronicles | Franz Kafka | episodio "Prague, August 1917" |
| 1992 | The Bill | Kevin Finch | episodio "Open to Offers" |
| 1990 | The Comic Strip Presents | Padre del Novio | 2 episodios |
| 1989 | La Víbora Negra cuarta | Capitán Kevin Darling | 6 episodios |
| 1987 | La Víbora Negra tercera | Le Comte de Frou Frou | episodio "Nob and Nobility" |
| 1986 | Blackadder II | Lord Percy | 6 episodios |
| 1985 | The Adventures of Sherlock Holmes | John Clay | episodio "The Red Headed League" |
| 1982 - 1983 | The Black Adder | Percy | 7 episodios |
| Año | Título | Personaje | Notas |
| --- | --- | --- | --- |
| 2014 | Autómata | Vernon Conway | junto a Robert Forster, Antonio Banderas & Melanie Griffith |
| 2012 | A Little Bit Country | Padre | corto - junto a Kazia Pelka & Richard Southgate |
| 2011 | Johnny English Returns | Patch Quartermain | junto a Rowan Atkinson, Rosamund Pike & Dominic West |
| 2010 | Black Death | Hob | junto a Sean Bean & Carice van Houten |
| 2008 | Agent Crush | Sargento/Operador | junto a Neve Campbell, Brian Cox e Ioan Gruffudd |
| 2007 | Save Angel Hope | Backman | junto a Billy Boyd & Luke Mably |
| 2005 | Casanova | El Doge | junto a Heath Ledger, Sienna Miller, Jeremy Irons & Natalie Dormer |
| 2005 | The Strange Case of Sherlock Holmes & Arthur Doyle | Selden | junto a Brian Cox & Emily Blunt |
| 2000 | 102 Dalmatians | Alonzo, Mayordomo de Cruella De Vil | junto a Glenn Close, Gérard Depardieu & Ioan Gruffudd |
| 1999 | Blackadder Back & Forth | Archdeacon Darling, Duque de Darling | junto a Rowan Atkinson, Hugh Laurie, Stephen Fry & Colin Firth |
| 1999 | Notting Hill | Max | junto a Julia Roberts & Hugh Grant |
| 1996 | 101 dálmatas: ¡Más vivos que nunca! | Alonzo, Mayordomo de Cruella de Vil | junto a Glenn Close, Jeff Daniels, Joely Richardson & Hugh Laurie |
| 1995 | Richard III | Lt. Stephen Croft | junto a Malcolm McDowell & Christopher Plummer |
| 1995 | Catherine the Great | Loco Monk | con Catherine Zeta-Jones & John Rhys-Davies |
| 1988 | Blackadder: The Cavalier Years | Persona Gritando en la Multitud | junto a Rowan Atkinson, Tony Robinson & Stephen Fry |
| 1986 | Anastasia: The Mystery of Anna | Yakovlev | junto a Christian Bale |
| 1985 | Wetherby | John Morgan | junto a Vanessa Redgrave, Ian Holm & Judi Dench |
| Año | Obra | Personaje | Director (a) | Teatro | Notas |
| --- | --- | --- | --- | --- | --- |
| 2010 | I, Claudius | Tuberius | - | - | - |
| 2007 | Othello | Iago | - | - | - |
| 1989 | Valued Friends | - | - | Hampstead Theatre | junto a Jane Horrocks, Martin Clunes & Serena Gordon |